6 Alternatives to Apple Watch - SmartwatchAuthority
The Apple watch is one of the smart watch top sellers in the US, with its latest series the Apple watch 4, people are probably trying find a reason to buy one or if they should upgrade. If you are looking for a reason to get an Apple watch, this is not for you. Because, we are going to tackle some disadvantages why the apple watch does not suit your lifestyle or your purpose of getting a smartwatch.

Although it is packed with most of a smartwatch and fitness tracker features combined, it can create a need for you to buy it, but generally, only 1 to 3 features are mostly used. To some features, you are just happy they are there you can use it when you need it. Probably you are able to use the other features once a month or maybe a year, sometimes you don't use it because you have other places to get those features from, like your smartphone which has a bigger screen. Here are some reasons why the Apple watch is not suitable or maybe very helpful for you, IF: 
If you want a rugged watch
Either you are working on a rugged environment or scenario that you always hit your hands or wrist on things, this is not for you, as it is prone to scratching, peeling of paint, and broken screen. As everyone agrees, that the Apple watch can be an In thing and you don't want to wear it with battle marks on it. It can survive a drop, on your wrist level, but eventually it breaks. In a rugged situations, you may accidentally hit your watch on a wall.

The thing about the Apple watch is, you can purchase screen protectors and protective case if you wish to keep it intact and if you like customizing the looks of your Apple watch. You can purchase silicone protectors or buy a rugged Gshock like case for more rugged protection.

If you want  a rugged smartwatch, you may want to check on the Matrix Powerwatch X – A ruggedized watch that you don't have to charge. It full packed with smart features, it charges itself with your body heat and also using solar. It is a great outdoor smart watch powered by Wear OS.

Shop for Protector case at amazon – Click here
Shop for Screen protectors at Amazon – Click here.

If you want to track your sleep
If you want to improve your sleep and use the sleep monitor from the Apple watch, yes you may do so. Although, Apple promises an 18 hours of battery life that may last a day and a half on minimal settings, and if you have a day job, you don't want to go out with your smart watch on a low battery. That's why you have to charge your apple watch while you sleep, so you'll have a full battery the next day and you'll not be able to track your sleep while it's charging. Unless, you still have 3 hours left when you get home to charge your Apple watch before going to sleep. If not, this is not for you.

If you want to track your sleep that you don't need to charge your watch every night, that has a sleep tracker and recommended by smartwatch experts – Try the Fitbit versa, the battery life is awesome, it can last up to 8 days without charging and can track your activity for 24 hours.
read about: Fitness Tracker That Tells You How Much Fat You've Shred: TomTom Touch Review

If you are a serious runner
If you are a jogger, yes. But if you are a serious runner and you train for it, the Apple watch is not for you. First, the apple watch can only last 4 hours when the GPS is turned on. Before you finish your race, you watch is already dead. According to Verywellfit.com, a full marathon will range over 2 hours for world-class runners, elite marathoners to eight or more hours for walkers. In terms of marathon finishing times for men finishes in 4 hours and 22 minutes. While being at 4 hours and 47 minutes.

There is a distance difference that we noticed as we compared it to the Garmin Fenix 5. The Apple watch 4 logged my half marathon just over 2 hours and 20 minutes, while I finished it in 2 hours 25 minutes while the cellular and GPS is turned on. The Apple watch consistently logged each mile about a tenth of a mile before it reaches its markers, and summed up almost perfectly 5 minute difference compared to the Garmin Fenix 5.

If you are not using the GPS, distance will be based on your number of steps, unfortunately, you can't set your stride length. While on the Garmin Fenix 5, you are able to set a stride length for walking and for walking which makes it more accurate without the GPS. If you want a more accurate tracking and offers next level information about your training like lactate threshold, VO2 Max, training effect, and other criteria that gives you the data if you are improving or not at all, the Garmin Fenix 5 is the best option for you if you are willing to spend the same value of the Apple watch 4.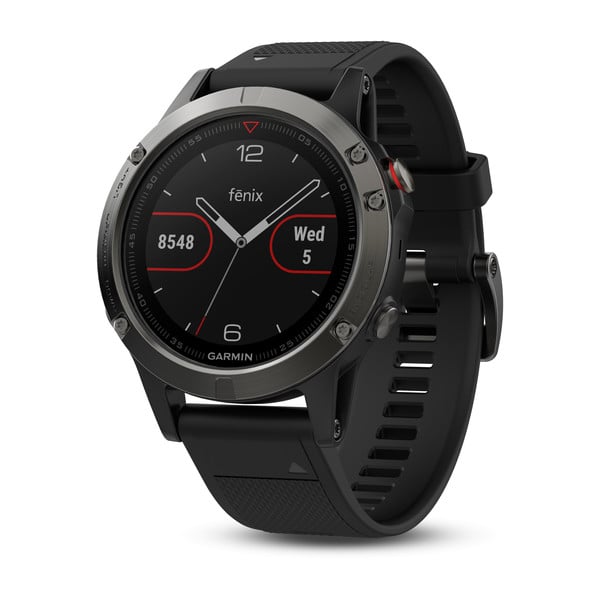 If you are budget driven
Yes, The Apple watch starts at $399 for the 40mm version of the watch. If you want the larger 44mm Wi-Fi only variant, you'll be spending $429. There's also the LTE toting version of the Apple Watch Series 4 that starts at $499 for the 40mm and $529 for the 44mm version. Remember, the more features like LTE, cellular and GPS you want to use, the shorter the battery life, it will be which will cripple you some time of using it.
Although, you can manage them by using the features only when you need it. The battery life on the Apple watch is the most popular complaints from users who does not like charging their watch every night. So, paying for such price may not be worth it for a certain purpose. Overall, the Apple watch 4 is good and trendy, if you are willing to pay that much for trend plus the accessories you can play with, why not.
But if you are if you are buying a smart watch for a purpose, get the one which is best for it in much cheaper price but best in features. Check on the TicWatch E, you may not heard of it but it's one of the smartwatches launched at the CES 2019. It is fully loaded with features run by Wear OS. You can get the TicWatch for $129 only. Or you can get the fitbit versa starting at $199.
If you are an adventure traveler
Going adventure? The Apple watch is not for you. You need a good GPS watch. When you are in places without cellular signal like mountain peaks, you can be doomed. The G-Shock GPR-B1000 is a hybrid survival watch that can help you navigate in places where there are no cellular signal are available. Although gps can work without cellular, but it only maps your location, but I doubt it will not show maps of your location without data.
Although you have to set your route first from your smartphone using an app, but when that is all set, it can stand alone for itself and guide you to your route. It logs your travel set points so you can walk back to safety on the same route. Packed with survival features such as Altimeter, barometer, compass, etc. It is a tough gear so it will survive the toughest condition on your travels.
Also you want to look inyo the Tom Tom Adventurer - it works the same as the G-Shock GPR-B1000, where you pre-load a set of tracks up to 15 sets and the watch will tell you the direction through the GPS. It also has a barometer and compass, but the looks of it is more on the sporty side. The battery is at 10 hours with the GPS turned on, 20 hours in hiking mode, and in normal use, it will last 4-5 days. It is a fitness tracker, but a survival watch since it depends its power from charging on a power source, unlike the G-Shock GPR-B1000, it is solar charging and the battery last longer on a single charge.
If you are an Android Person

If you do not have an iphone, the Apple watch is not for you. As the Apple watch is monopolized by Apple and works with iPhones only, unlike other brands like the Samsung gear S3, and Gear Fit 2 they are now compatible with android and IOS phones.

                
Conclusion

Your Apple watch will never replace your iPhone as it has a small screen and limited battery life and storage, but If you love smart features at a glance and you want to monitor your activities without getting so serious about it, the Apple watch is for you. The Apple watch 4 has a lot of great things to offer despite its disadvantages. They are not for everyone, but if it fits your lifestyle you can do great things together with it.
 
Next, if you already have the Apple watch 3, is it worth to upgrade? : read more about it: Is it worth upgrading your Apple Watch from series 3 to 4? Or should you just wait for the next series?